Rear Discharge Mixer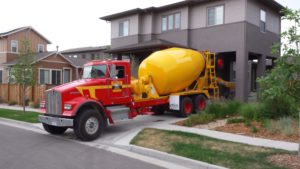 The benefits of this vehicle are:
Larger volume loads in one delivery vehicle (orders for 5.25-10 cubic yards = two site-mix trucks, or just one rear discharge mixer for the same size placement).
The ability for us to supply higher volume placements to you, our customer. We can deliver 30 cubic yards or more to one placement with proper delivery spacing scheduled on the trucks.
Faster set times for your concrete mix, as the load receives additional mixing in transit to your project site.
More effective mixing of loads with added products like Fibrous Reinforcing and color. Additional mixing of the entire load ensures proper dispersion of the added products throughout the concrete mix on the truck.
Site-Mix Truck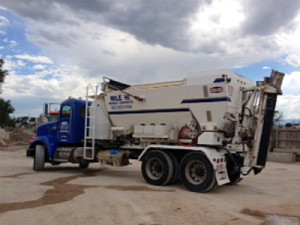 Typically they will carry approximately ½ a cubic yard more material than you have requested, just in case your placement requires a little more concrete than was estimated. That being said; it is prudent to make sure that you order correctly for your placement and do not "Short Order" because the truck has "extra" material. The charge for the load will be the amount originally ordered, or the amount actually used, whichever is greater.
Trucks carry coarse aggregate (3/4" or 3/8" Pea-Gravel), sand, cement, water and some admixtures (based upon the concrete mix you have requested)
These materials are fed to the rear of the truck, then mixed in the auger and transferred to the point of discharge from the vehicle.
The benefits to this vehicle are:
Freshly mixed concrete – this is very beneficial in hot weather when set times are reduced
Concrete pours that require longer periods of time to place
Precise quantities for your placement
Immediate slump adjustment – This is beneficial if part of your placement requires a low slump(dry/stiff) concrete and a portion that requires a higher slump (wetter) concrete. For example: a set of stairs that you need to place at a 3" slump and a slab that you want to place at a 5" slump.
The ability to travel greater distances from our facility and still provide fresh concrete (Mileage charges may apply)